"I hate this place," I couldn't help but blurt out to Laurel.
We had just checked in for her ultrasound appointment last week, and had seated ourselves in the comfortable brown leather chairs that dot the large, modern lobby of the radiologists' office.  It was tastefully decorated in neutral tones.  A towering stone fireplace stretched from floor to ceiling, the dramatic focal point of the room.
"Why do you hate it?  I think it's nice," she responded, a bit surprised by the intensity of my reaction.
If you're a woman over 40, you'll know instantly why I dislike this place.  This is where I go for my annual mammograms.  And I had just scheduled one for the following Monday.
Later that evening at my Thursday night Bible study, teacher Beth Moore transitioned into the closing of our DVD session with these words:
There's no such thing as a 'routine' mammogram."
I scribbled this on the bottom of my notes with a silent "Amen."
She knows.
Beth went on to describe her visit to a similar radiologist's office in Houston for some follow-up tests from her own recent mammogram.  Her daughter Melissa had accompanied her for moral support.  As they waited, Melissa scanned the ominous titles of the cancer brochures on the nearby rack and couldn't help but exclaim, "This is brutal!"
Then she turned to her mom and said something profound:
Jesus knows it's scary to be us."
I jotted this down in my notes as well.
Because, yes.  It is.
The news this week brought fresh reminders of just how scary.  In case you missed it, tornadoes, floods and sinkholes wreaked havoc from Arkansas to Florida.  CNN reported that since Sunday 38 lives had been claimed by these deadly weather-related events.  I've mourned as I've read some of the stories of heroism…and loss.
It's scary to be us.
Jesus knows.
I love the way The Message puts Hebrews 4:15:
We don't have a priest who is out of touch with our reality. (Hebrews 4:15, The Message)
He knows what we're going through.  He is with us.  He will help us.
I liked the King James rendering of this verse as well:
For we have not an high priest which cannot be touched with the feeling of our infirmities… (Hebrews 4:15a, KJV)
He feels our pain.  He knows our frailty.  He understands our fears.
A God who can be touched is a God who can be trusted."
(That last quote was mine.  Feel free to copy it in your notes if you like.)
It was scary to answer the call from the radiologist's office yesterday.  They want me to come back in this afternoon for additional images.  So, for the third time in eight days, I will walk through those foreboding automatic doors and taste that familiar fear as it rises and fills the cavernous waiting room.
Jesus knows it's scary to be me today.
But with Him by my side I can face all my fears.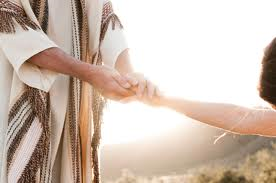 *Update:  I'm grateful to report that all is well!  The technician showed me the spot they were concerned about and took two additional images of the area.  She left the room to go talk with the radiologist to see if he wanted an ultrasound.  It felt like she was gone a long time, maybe 15 minutes.  I just kept praying, and prayed specifically that God's presence would fill this place and replace the fear with His peace.  Not just for me, but for the many other women who would sit in that room waiting and wondering.  When she finally returned she said the spot had "disappeared" and that even the radiologist hadn't expected that outcome!  I don't know what happened, but I'll take it!  Thank You, Jesus!