Some notes are worth keeping. I tucked this one in the back of my spiral-bound journal, where it resided, undisturbed, for the next 13 years. I pulled it out today in remembrance of its author.
Alan and my husband served together as church elders for nearly a decade, until a painful conflict with another church leader caused our family to leave the warm fellowship we had called "home." One day, in the midst of the emotional turmoil swirling around this toxic situation, a note arrived in the mail. The front of the card, printed on ivory cardstock, read:
"Everything will be okay in the end. If it's not okay, it's not the end."
I was touched that Alan, a busy Wyoming cattle rancher, would take the time to create such a thoughtful and timely card. Inside, he had handwritten a relevant Bible passage and penned a personalized prayer. This was not surprising, since Alan was both well-versed in Scripture and a dedicated warrior in prayer.
Last Saturday, the Lord called Alan unexpectedly home. He is now in the presence of the Savior he so genuinely loved and faithfully followed. Today is Alan's Celebration of Life. His life is easy to celebrate. His legacy is desirable to emulate.
I never forgot Alan's simple message of validation and hope and often thought of it over the years. I'm sharing it today in his honor. And just in case someone else needs this reminder, like I did, during a difficult season of life.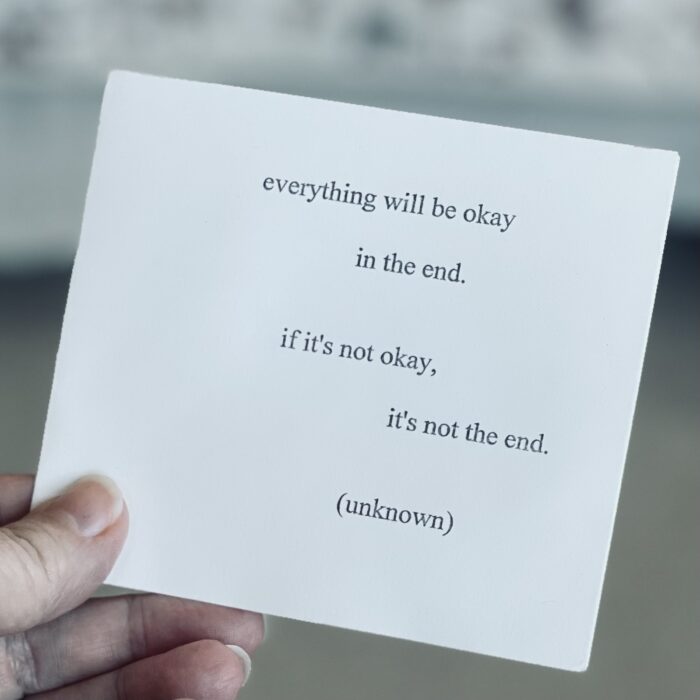 Thank you, Alan. You were right.
Everyone enjoys a fitting reply; it is wonderful to say the right thing at the right time! The path of life leads upward for the wise; they leave the grave behind. (Proverbs 15:23-24, NLT)
***
If you'd like to learn more about Alan's amazing life, here's a link to his obituary:
https://www.schradercares.com/obituary/Alan-Kirkbride?fbclid=IwAR20p_2j50yBqgm9ma0uzWTI7NJr6WY14MSqsZclmZOb6WIxZwx7yCdQ8g8