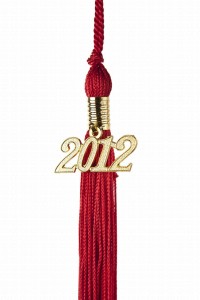 "For I know the plans I have for you," says the Lord. "They are plans for good and not for disaster, to give you a future and a hope." (Jeremiah 29:11)
It must be graduation season, because this verse keeps popping up everywhere.  I see it on key chains, picture frames and cards.  It could easily be called "The Graduation Verse."  And rightly so, as it gives confidence to those newly minted graduates venturing out into an unknown future.  I decided to do a little digging into this well-known verse to see if I might unearth some lesser-known insights.  As usual, God and His Word did not disappoint.
God has a plan.  "God loves you and has a wonderful plan for your life."  Anyone familiar with the little booklet "The Four Spiritual Laws" knows this.  In my years on the staff of Campus Crusade for Christ,  I heard this phrase repeated so many times it began to sound cliche.  Yet Jeremiah 29:11 reminds us that God does indeed have a plan for our lives.
The word for "plans" can be translated designs, intentions, purposes and thoughts.  The King James renders the first part of the verse this way:  "I know the thoughts that I think toward you…"  The fact that God has a purpose for our lives is certainly reassuring.  But the fact that the God of the Universe would spend time…thinking…of us?  What an incredible thought!
His plan is good.  When I looked up the word "good," the familiar Hebrew word shalom greeted me!  We most often associate "peace" with this word.  Shalom also carries with it the idea of completeness, soundness and welfare.  The "good" God has planned goes beyond superficial and fleeting happiness based upon material or circumstantial blessings.  His greatest desire is that we experience lasting, inner peace and well-being as we are made whole in Him.
His heart is good.   He does not will disaster upon us.  If we insert all of the other words the Bible uses for the Hebrew word for disaster, it looks like a veritable thesaurus and reads something like this:
"My plans for you are not for adversity, affliction, calamity, disaster, discomfort, distress, evil, harm, hurt, ill, injury, misery, misfortune, pain, sorrow, trouble, woe, wretchedness, or wrongdoing."
Staying close to Christ will undoubtedly protect us from much heartache in this life.  We are not, however, promised that we will be completely insulated from sorrow and pain.  Life in a fallen world means we WILL experience difficulty.  But we do have the promise that Jesus will be our Shalom in the midst of it (John 16:33) and that God will take "bad" things and use them for our ultimate good (Romans 8:28).  I liked the way Matthew Henry summed it up in his commentary on this verse:  "We often do not know our own minds, but the Lord is never at an uncertainty.  We are sometimes ready to fear that God's designs are all against us; but as to His own people, even that which seems evil, is for good."
It ends well.  The word for "future" means posterity, end.  Look at how the King James version translates it:  "I know the thoughts that I think toward you, saith the Lord, thoughts of peace, and not of evil, to give you an expected end."  Matthew Henry continues, "He will give them, not the expectations of their fears, or the expectations of their fancies, but the expectations of their faith; the end he has promised, which will be the best for them."  Our story has a happy ending.
Jesus is our hope.  When I looked up the word for "hope," I was intrigued to find the Hebrew word tiqvah, which literally means "a cord."  The only other place this exact word is used is in Joshua 2, when the spies offered to save Rahab because of her kindness and faith.  A scarlet cord (tiqvah) placed in her window marked her dwelling and spared her and her family from destruction.
I love this description from Scofield's Reference Notes: "The scarlet line of Rahab speaks, by its color, of safety through sacrifice." (Emphasis mine.)  Matthew Henry also elaborates on the significance of the tiqvah:  "The scarlet cord, like the blood upon the doorpost at the Passover, recalls to remembrance the sinner's security under the atoning blood of Christ…"
It always comes back to HIM!  He is our hope, our tiqvah.  As Christians we are marked by a scarlet cord, the blood of Jesus, the precious Passover Lamb.  And We Are Safe.
This morning as I lay in bed, pondering this idea of the tiqvah, I happened to glance over at the window and noticed the tassels of the curtain tie-backs dangling down.  I had a mental picture of a scarlet cord hanging in my own window as a sign for Jesus to see when He comes back for us.  It's a symbol that calls out,   "I am Yours, Lord.  You are my Future and my Hope."
God has a plan for your life.  His plan and His heart towards you are good.  Your story ends well.  So tie your hope to Him!  Whether you are graduating, going through difficulty or facing uncertain times, Jeremiah 29:11 reminds us all that "the future is as bright as the promises of God."  (William Carey)
Amen!