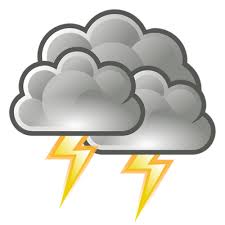 I fearfully checked the 10-day weather forecast yesterday morning. Our daughter's outdoor wedding was just ten (count them, ten!) days away! Ten (count them, TEN!) little gray thundercloud icons greeted me. One unhappy Mother-of-the-Bride's face greeted them back.
I immediately went into Prayer Combat Mode. Pray for sun! That's what we'll do! Pray every day! Get everyone we know to pray!
Pray, pray, PRAY!
Until I heard God's voice in my spirit, clear and unmistakable:
Will you let ME choose the weather for the wedding?
Uh, excuse me, Lord?
I must admit that this question made me nervous. Very nervous. And while we're being honest, can I also admit that sometimes God Himself makes me nervous?
Because, like the Narnian creature stated in C.S. Lewis' The Lion, the Witch and the Wardrobe, while He may be good, He is not safe.
Safe?" said Mr. Beaver, "…who said anything about safe? 'Course he isn't safe. But he's good. He's the King, I tell you."
But I want safe!
What if He picks rain? Or a flood? Or, heaven forbid, a tornado?
I want SUN!
As I wrestled with the uncontrollable and unpredictable nature of God, I realized there was another, more important question I must answer:
Do I trust His heart? Do I really believe that He is good?
Could I surrender my idea of a "perfect" wedding day? Could I rest in my Father's loving care and sovereign control?
For the Lord is good… (Psalm 100:5a, NIV)
Yes, the Lord will give what is good… (Psalm 85:12a, ESV)
No, He may not be safe. But He is most certainly good, and He will give what is good.
And I will trust Him.
I will not frantically follow the forecast. I will not pray and panic. I will not wring my hands in worry.
What relief clears our minds when we cease striving, demanding and working for what we want. What peace floods our souls when we rest as dearly loved children in a Father's perfect plan. What joy invigorates our hearts when we let HIM define what is best and beautiful.
I have no idea what the wedding weather will look like.
But I know Who will be shining His favor and glory on a very special couple that day.
The King. Our Father.
Wild and wonderful is He.
For the Lord God is our sun and our shield. He gives us grace and glory. The Lord will withhold no good thing from those who do what is right. (Psalm 84:11, NLT)