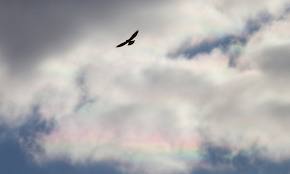 (It is) your wisdom that makes the hawk soar and spread its wings… (Job 39:26, NLT)
One of the perks of living on top of a hill is the view.  It (almost) makes up for the extra wind.  I can see across the Wyoming prairie for miles up here.  If you ever want to know what kind of weather's coming this way, call me.
Because of the hill, we also enjoy an eye-level vantage point of the flight of several hawks that patrol the backside of our property.  Their strength and grace are mesmerizing as they glide, angle and swoop in search of their prey.  (And if the hawks keep the resident rodent and reptile populations down, then as far as I'm concerned they are more than welcome to stay!)
Several weeks ago I was busying myself in the kitchen, preparing to tackle my To-Do List, when I happened to look out through the kitchen window.  There, perfectly framed and silhouetted against the backdrop of the gray sky, was a gliding hawk.
I sensed the quiet nudging of the Holy Spirit.
Stop.  Watch.  I have something to teach you.
So I abandoned my list, picked up my cup of tea and took my perch at the window.
Ok, Lord.  Commence lesson.
As I observed the hawk in flight, I was mainly struck with how little he flapped his wings to stay aloft.  Every now and then he'd flap a few times to maintain his position and height, but the rest of the time he'd merely spread his massive wings and let the wind do the work.  It appeared effortless.
So not like me, I thought.
I did some quick research and discovered that there are two kinds of birds:  "soaring" birds and "flapping" birds.  Soaring birds, like hawks, use air currents, updrafts and wind to propel and lift them.  Their larger wings are perfectly designed for this kind of flight.  But because flapping birds have smaller wings than soaring birds, they must work harder and move forward faster to stay in the air.*
I guess I'm a flapping bird.
I have so much to do.  Flap, flap.
I must pursue my agenda for the day.  Flap, flap, flap.
I will wear myself out trying to make it all happen.
Flap, flap, flap, flap.
And all the while the Spirit is saying…
Cease striving and come to Me.  Relax and let Me carry you to heights your feeble self-effort could never reach.  Abandon your fleshly agendas and allow the mighty wind of My Spirit to direct and empower you.  I created you to Soar.
Like the hawk, I want to flap less, and soar more.  To be emptied of my lesser agendas.  Freed from my exhausting efforts.  Filled with His Holy Spirit.
God can change me from a flapper to a soarer.
He says I am "perfectly designed for this kind of flight."
A few days later, I saw this sign, newly posted in front of a church near our house:
We are learning to soar."
I had to laugh.
Because, yes.  Yes we are!
Keep teaching us, Lord.
*From "How Birds Fly," www.learner.org.