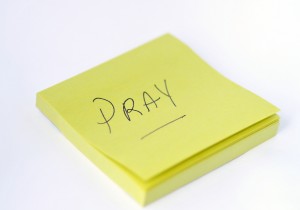 My husband and I enjoyed a spontaneous date last night to see the movie "War Room." Have you seen it? It's a heartwarming story of the life-changing power of prayer. The title comes from the example of the elderly Miss Clara, a prayer warrior. Taking the words of Matthew 6:6 literally, she dedicated an actual closet in her home as a "war room," where she engaged in spiritual battle through prayer. (The King James Version of the Bible translates the word for "inner room" in this verse as "closet.")
But you, when you pray, go into your inner room, close your door and pray to your Father who is in secret, and your Father who sees what is done in secret will reward you.
Now, I don't really consider myself a prayer warrior. But apparently some of my friends do. I regularly get texts, emails and Facebook messages requesting prayer for various needs and concerns.
I'm humbled. And I care. So I pray.
I don't have a prayer closet. It's more like a prayer bed. Sticky notes of various sizes and colors often dot my bedside nightstand. (Only they don't usually stick because I rarely dust. They're more like floaty notes.)
I think my little prayer "system" began when I started jotting down names on the nearest sticky note to remind me to pray. And you know what? It worked! Tiny neon rectangles catch the eye and convey a sense of urgency:
Do this. NOW.
At the end of the day, before I turn out the light, I pray. I pray for a couple of lovely ladies who are going through, or recovering from, cancer treatments. Sweet friends who are going through difficult transitions. Precious ones who are grappling with the fresh loss of family members. God-loving parents who are dealing with wayward children.
Writing a name on a simple sticky note has become a sacred commitment to intercede on their behalf. Yes, there are nights when I'm too tired to pray. Other times I don't know what to pray. I entrust these dear souls to the Faithful One who intercedes for them with groanings too deep for words (Romans 8:26).
HE knows what to do. HE knows what they need.
Is God asking you to pray? Don't let examples like Miss Clara's intimidate you. Just start somewhere. Whenever, wherever, whatever works for you. God is infinitely creative.
Don't know how to pray? Just talk to Him. Share your heart. Pray a Scripture. Sing a worship song. His Spirit will guide you.
Are you in need of prayer? I would be honored to pray for you. Just click on the "About Me" link where you will find my email address.
But first…
Let me go and grab a sticky note! 😉
And pray in the Spirit on all occasions with all kinds of prayers and requests. With this in mind, be alert and always keep on praying for all the Lord's people. (Ephesians 6:18, NIV)