The sun had just poked its head over the horizon and I had just lifted mine off of the pillow. My slippered feet shuffled across the cold kitchen floor, on auto pilot, headed to the counter where the electric tea kettle–and the caffeine–live. On the speckled granite lay an unexpected message from my husband, hastily scribbled on the back of a discarded envelope: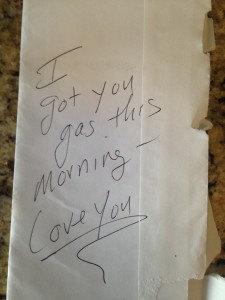 My guy has a true servant's heart. It's his spiritual gift, his native tongue. "Acts of Service" are his "Love Language."
Unfortunately, they're not mine.
You're familiar with "The Five Love Languages," right? Author Gary Chapman writes:
After 30 years as a marriage counselor, I am convinced that there are five basic love languages – five ways to express love emotionally. Each person has a primary love language that we must learn to speak if we want that person to feel loved."
According to Chapman, the five love languages are:  Acts of Service, Words of Affirmation, Quality Time, Gifts, and Physical Touch. You can read more about them and even take a handy quiz to help determine your love language at: www.5lovelanguages.com.
I believe my primary love language is "Words of Affirmation." A sincere compliment can fill me up for a week. I love to send handmade cards and write encouraging notes. Words are my friends. (I also like "Gifts." Gifts are my friends.)
Chris and I read "The Five Love Languages" shortly after the book came out in the mid-90's. You'd think we'd be fluent in each other's love languages by now. But we forget. We get lazy. Learning to speak a second language requires focus and determination. And practice.
My helpful hubby got some credit for the handwritten "note" on the back of the envelope that morning. But my heart sank a little when I realized it was only to tell me that he had filled up my car with gas, and not something more, well…inspiring.
Sigh.
Like I said, while I do appreciate them, "Acts of Service" are just not my love language.
And then the Holy Spirit spoke to the pouting child in me. In one of His love languages. The one called "A Gentle Rebuke."
Ouch.
I'm not very fond of that love language either.
What He whispered to my critical heart sounded something like this:
You can demand that others love you a certain way. Or you can choose to receive the love they offer you in whatever form it takes. Because love is…love. This act of service sprang from a heart of love. Will you accept it or reject it? The choice is yours.
Standing at the kitchen counter at the start of that new day, I made a choice to accept it.
And to thank the Lord for a husband who finds joy in unselfish service. To receive the gracious gift of a full tank of gas. To let the power of those two little words, "Love you," linger in my thoughts and penetrate my heart.
He loves me.
It's all that matters.
Understanding our loved ones' love languages can help us communicate more effectively. But really, I don't think there's anything in the Bible that insists love be spoken in a certain "language." There's only this:
…love one another deeply, from the heart. (1 Peter 1:22b, NIV)
Love deeply. From the heart.
There is only one happiness in this life, to love and be loved." (George Sand)
Just love, and be loved.
So simple, it needs no translation.