There are soccer moms. And hockey dads. And then there are the "Spirit Boosters."
That's right.
It's what you become when you have three daughters who prefer pom poms to push-ups.
Chris once had a red nylon polo shirt with that very title embroidered in black. Because real men can handle wearing that kind of shirt. (He wore it once.)
This past week we both took the day off to go "boost some spirit" at the WY State Spirit Competition in Casper. Rachel and her boyfriend Alex also joined us as we cheered for the cheerleaders.
This was Alex's first "spirit" rodeo, so Rachel explained the terminology–things like "basket tosses," "libs," and "full outs." We yelled for our favorite little cheerleader and Rachel's former team as they competed in three events:  Non-Stunt, All-Girl Stunt, and Coed Stunt. Alex was a good sport, and seemed genuinely interested in the performances. (Score a parent point for him!)
After the competition, we all commented on the athleticism of a couple of the other teams' male cheerleaders. They each held a petite female cheerleader high above their heads–with one hand.
It was sheer strength. Combined with total trust.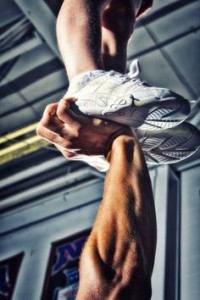 I saw this quote on a cheer t-shirt a few years ago:
Any man can hold her hand. But it takes an elite to hold her feet."
Indeed.
I can still picture those burly boys at the state competition, gripping two small feet with one large hand, while the cheerleader above them just smiled and waved at the crowd. They made it look so easy.
And what about the "flyer," as the girl in the air is called? How long did it take her to develop that kind of confidence in her "base?" How many times did they practice that lift before she could set aside her fear? And do it with a smile on her face?
All of this reminded me of the verse our Bible study group focused on a few weeks ago, where the Lord says:
"Don't be afraid, for I am with you. Don't be discouraged, for I am your God. I will strengthen you and help you. I will hold you up with my victorious right hand." (Isaiah 41:10, NLT)
As we studied this verse I was struck by the fact that it begins with two commands, each followed by two promises:
Don't be afraid…for I am with you.
Don't be discouraged (or "anxiously look about you," NAS)…for I am your God.
The promises support the commands. Instead of being anxious and afraid, the Lord wants us to remember that He is God…our God…our God-with-us.
And as if that were not enough assurance, He goes on to make three more empowering promises:
I will strengthen you.
I will help you.
I will hold you up.
I love the way Pastor John Piper explains it:
…when God calls you to be free from fear (to overcome this natural emotion and have peace), he does not leave the command hanging in the air. He puts pillars under it. Five of them. That's the nature of all biblical commands. They come with divine support."
His promises are the basis for our confidence. They teach us to trust Him. Our fears begin to settle down. We learn to relax in His strong grip.
He's got us.
We can have faith to fly, because the Almighty God is underneath us. He lifts us up with His victorious right hand. He could do it with the little pinkie on His right hand if He wanted to.
We will not fall.
Listen to what the Lord says to you through "The Message" translation of this verse:
"You're my servant, serving on my side. I've picked you. I haven't dropped you. Don't panic. I'm with you. There's no need to fear for I'm your God. I'll give you strength. I'll help you. I'll hold you steady, keep a firm grip on you."
So, chin up. He won't let you down.
Hold your head high. He's holding onto you.
Put your total trust in His sheer strength! He will carry you through!
Let His promises cheer your heart and lift your spirits today!