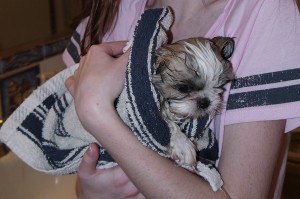 That's right.  You can't have one without the other.  The trick is to keep the 'other' from getting on the 'one.'  And on any other surfaces you'd rather not have to immediately sanitize.
Our first week with a new puppy brought a not-so-slight increase in laundry and baths.  (Good thing we live in the county, where we don't have a water bill.)  I kept hearing that puppies don't like to combine their bathrooms with their bedrooms.  Well, this little guy didn't seem to mind that combo one little bit.
I began to dread the scene that awaited me on the other side of the bathroom door each morning.  There he'd be, all 2.1 pounds of him, jumping and scratching on the sides of his kennel, desperate to be picked up and held.  I was genuinely happy to see him and eager to embrace him.  But his condition was not exactly conducive to cuddling, if you know what I mean.
Laurel and I would fly into crisis mode, gathering supplies and scrambling to fill the sink with warm water.  He'd whimper and wiggle as we tried to work some orange-scented "Puppy Fun!" shampoo into the offending areas.  I wanted to say, "Stop fighting me!  I can't hold you until I get you cleaned up!"  Eventually we'd get him bathed and bundled in a dry towel, where he'd sleep, spent from the struggle.  By then, Laurel and I needed a nap too!
Just like that four-letter word that begins with 's,' SIN happens in our lives.  It goes hand in hand with our human condition.  And when sin happens, we also have a tendency to step in it, track it around, and make an even bigger mess.  We wonder why God appears to be distant as we cry out for comfort.  The truth is He longs to hold us close, but the issue of our sin must first be addressed.  We are helpless to clean ourselves up.
This is why Jesus came.
If you are still resisting Him, might I encourage you to stop?  Submit to His capable care and let His love and mercy wash away sin's stain.  Relax in His strong grip.  Rest in His tight embrace.
You can trust Him.
If you know Him as Savior, then why not be quick to run to Him when you make a mess?  There's no need to wallow in it or cower in shame.  Just confess your sin, gratefully accept His forgiveness and get back to enjoying your relationship with Him.
"If we confess our sins, He is faithful and righteous to forgive us our sins and to cleanse us from all unrighteousness." (1 John 1:9, NAS)
It feels good to be clean.
And even better to be held.