I like to talk to God out loud when I'm alone in the car.  I'm sure it looks strange.  I try not to care what the other drivers around me think.
Last Friday I had a lunch date in Colorado with a good friend.  I always look forward to our annual "Christmas Catch-up."  I also looked forward to my "date" with the Lord on the way there and back.  As I merged onto the southbound lane of I-25, I began sharing my heart with Him in prayer.
I was feeling burdened by an important decision affecting our family, wondering what was next.  I asked God to guide us and show us His will.  As I prayed, the Holy Spirit brought to mind several truths.  While I still don't know the outcome of this particular situation, here is what I DO know…
1)  HE knows.
"For I know the plans I have for you," says the LORD. "They are plans for good and not for disaster, to give you a future and a hope." (Jeremiah 29:11, NLT)
We may not know the future, but we know the One who does.  Even though the path before us is unclear, He knows exactly what waits around the bend.  This brings welcome peace in the midst of uncertainty.
2)  I can "Do the next thing."
Years ago I was privileged to attend a conference where author and former missionary Elisabeth Elliot spoke.  She shared how overwhelmed she felt upon returning to the mission field following her husband's death. This phrase helped guide her:
When you don't know what to do next, simply do the next thing."
Continuing down the highway, I recalled her words.  I could see my "next thing" clearly, a conversation that needed to take place.  I would try and make that happen.
Then the Lord reminded me of this verse:
For we are His workmanship, created in Christ Jesus for good works, which God prepared beforehand so that we would walk in them. (Ephesians 2:10, NAS)
I've always pictured Ephesians 2:10 something like this: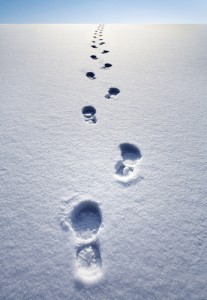 God has gone before us.  The good works He has lovingly prepared and uniquely equipped each of us to do stretch out before us, like footprints in the snow.  Our job is simply to place our foot in the imprint of His, one step at a time.  Sometimes blowing snow obscures the trail.   But if we sit tight our view will eventually clear.
Are you faced with a difficult decision or a challenging situation?  Rest in the fact that God has prepared the way and knows the outcome.  Can you see your next step?  Then take it.  Just do the next thing.  Step by step, you'll get to where you need to be.
It's a new year, full of possibilities and unknowns.  Our future is known and planned by our heavenly Father.  He will faithfully guide us, each step of the way.
(For an in-depth study of Jeremiah 29:11, check this out:  http://shelleylloydsmith.com/?p=1209 )
Share on Facebook