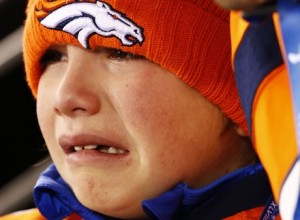 Yesterday should have been a banner day.  A promotion ceremony was scheduled for my husband at 2pm. We hoped to follow that up with an exciting Broncos Super Bowl victory.
We got neither.  The ceremony was delayed due to a paperwork glitch.  And, well, you know what happened to the Broncos.
Our banner day became a bummer day.
Hope deferred makes the heart sick… (Proverbs 13:12a, NLT)
True, that.
It's been 15 years since the Broncos' last trip to the Super Bowl.  Chris has been working towards this promotion for the better part of two years.  The stars had finally aligned.  We were thrilled.  It was "our" turn.
Whoosh.  (That was the sound of the rug being pulled out from under foot.)
…but a dream fulfilled is a tree of life.  (Proverbs 13:12b, NLT)
Sure, a Super Bowl win would have been nice.  (There's always next year, right?  Hope springs eternal.)  The promotion will still happen, Lord willing.  And we'll celebrate.
But I'm realizing that even when dreams do come true and we're off to Disneyworld, as exciting as that may be, the happiness will eventually fade.  Before we know it, another season will begin, with new challenges, obstacles and unfulfilled longings.  The cycle repeats.
To have true and lasting joy in life, my hope must be tied to something sturdier than just securing a desired victory or receiving a long-awaited answer to prayer.  God has graciously given us wonderful promises to hold onto in His Word.  But our ultimate hope comes not from clinging to a prayer, or even to a promise, but to a person.  HIM!
And this hope will not lead to disappointment. For we know how dearly God loves us, because he has given us the Holy Spirit to fill our hearts with his love. (Romans 5:5, NLT)
At the end of the day, regardless of what has or has not happened, I can be confident that He still loves me.  Putting my hope and trust in His unfailing love will not leave me disappointed.  He is solid.  I am secure.
I love the Broncos and will remain a loyal fan.  And of course I love my husband and am proud of him, regardless of his title or salary.  But I also love the Lord and will choose to place my HOPE in HIM.  HE is the real Champion, the One who always loves and never disappoints.