Early Tuesday morning I opened the front door to be greeted by a small pile of this, right smack dab in the middle of my "Welcome" mat: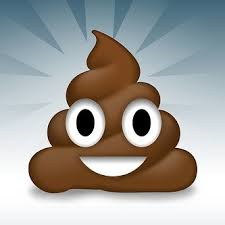 Only it wasn't smiling. And neither was I.
(And in case you're wondering, this is NOT the soft-serve chocolate ice cream emoji.)
Talk about a rude awakening.
I have no idea what deposited this lovely gift on my front porch.
But I'm pretty sure I know who was behind it.
You see, it was a statement.
From the enemy.
Let me explain.
For the past six weeks or so, I've been leading a Bible study on Thursday nights with a wonderful group of gals. The topic? "Women Encountering Jesus." We've eavesdropped on a conversation at a Samaritan well, witnessed the mock trial of an adulterous woman and looked on, wide-eyed, at a sinner's public display of affection at a dinner party.*
We've fallen more deeply in love with the Man who met each one with matchless mercy.
The last few passages we've studied, however, have involved Jesus demonstrating His power over forces in the spiritual realm. We've sympathized with the desperate mother begging for relief for her demon-possessed daughter, and cheered as a dear crippled woman was released from bondage after nearly two decades of demonic oppression.
We've been awed by this One who exercised unparalleled authority over it all.
Over the years I have gained some firsthand knowledge of spiritual battle. (So have you, no doubt, if you've walked with the Lord for any length of time.) I've learned to identify the enemy's activity and recognize his calling card. I fully expected to meet with resistance as we tackled the subject of Satan and his partners in crime. So frankly I was a little surprised when all remained quiet on the western front.
And then the Special Delivery showed up on my doorstep.
Along with a "note," signed by the accuser himself.
I'm out here, prowling around, just waiting for an opportunity.
(I should also mention that my husband had just left town. Coincidence? I think not.)
But GOD also had a message for me.
This is as close as the enemy can get to a believer in Christ. He cannot cross the threshold. His garbage must stay outside and he knows it. Nothing can touch you unless I say so.
Wow.
It was quite the visual.
Yes, the lion still prowls and threatens.
We see his tracks and evidence of his presence.
I'll admit I was a bit rattled by his public display of "affection."
But
I. Refuse. To. Be. Intimidated.
Because the Lion of Judah guards my life.
And greater is He who is in me than he who is in the world!
Hallelujah!
Be alert and of sober mind. Your enemy the devil prowls around like a roaring lion looking for someone to devour. (1 Peter 5:8, NIV)
Look, the Lion of the tribe of Judah, the heir to David's throne, has won the victory. (Revelation 5:5b, NLT)
He who was born of God keeps him, and the evil one does not touch him.
(1 John 5:18b, NAS)
You, dear children, are from God and have overcome them, because the one who is in you is greater than the one who is in the world. (1 John 4:4, NIV)
*See previous blog post for more on the story of "The Sinful Woman."