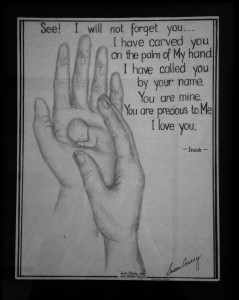 I strolled right past this simple pencil drawing at the silent auction last month. I honestly don't remember ever seeing it.
My co-worker's husband purchased it for our pregnancy center. He proudly showed it to my husband and me as we exited the banquet. Still, I didn't think much of it.
Until the following Monday morning at work, when I took the time to read the artist's description of the story behind it:
Mother Teresa herself asked me to create this special drawing of a little child carved in the Palm of God's Hand. She wanted me to include this beautiful passage from the Old Testament in which God says to each one of us, through the Prophet Isaiah, "See! I will not forget you…I love you." I created this image for Mother Teresa in 1986, while I was with her in Calcutta, India. –Susan Conroy"
Wow. This was an original piece of artwork, conceived and commissioned by Mother Teresa herself! I realized that the drawing–that I had disregarded–was instead something very special.
But there's even more to this story. If you look carefully, you will see a word written in pencil on each of the fingers in the drawing. The artist explains:
Mother Teresa wrote on each of the fingers of God's Hand: "You did it to Me" to remind us of the Words that Jesus said, "Whatsoever you do to the least of my brethren, that you do unto Me."
"You. Did. It. To. Me."
Jesus' own words, written in her own handwriting.
Those who knew this precious servant of Christ recall how she sometimes held up the fingers of her hand to explain this. The whole Gospel, she said, could be counted on five fingers.*
I call this the Gospel on five fingers—five words: You did it to me. In your five fingers you have your love for Jesus. Look at your fingers often and remind yourself of this love." –Mother Teresa
What a treasure! The drawing now hangs in a place of honor in our center. I pass it in the hallway each day as I head up the stairs to my office. It reminds me of the evening of the silent auction. How I missed it, then dismissed it.
Just like I do with people.
How many have I just passed by, too busy or preoccupied to notice? How many have I glanced at with my eyes, but then rejected with my mind? Sized up based upon their outward appearance? Judged in a split second, before taking a few moments to learn their history?
My job at the center has been good for me. I've interacted with people I never would have had the opportunity to meet otherwise. They are sometimes uneducated, unemployed, unkempt.
The least of these.
But then they share their stories. My eyes are opened. My heart is moved. I can appreciate their uniqueness. I understand their worth.
I am learning to care for them.
Teresa of Calcutta did.
I am beginning to treasure them.
Jesus of Nazareth does.
I am preaching His Gospel to myself.
The one in five little words.
The one that changes everything.
"You did it to Me."
And the King will answer them, 'Truly, I say to you, as you did it to one of the least of these my brothers, you did it to me.' (Matthew 25:40, ESV) 
*Monsignor Leo Maasburg