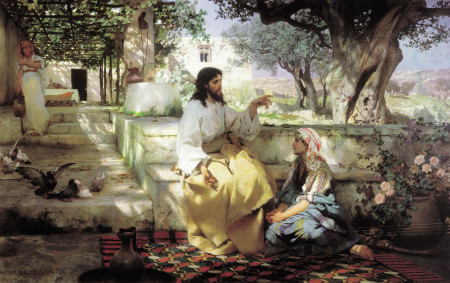 As Jesus and his disciples were on their way, he came to a village where a woman named Martha opened her home to him.  She had a sister called Mary, who sat at the Lord's feet listening to what he said.  But Martha was distracted by all the preparations that had to be made.  She came to him and asked, "Lord, don't you care that my sister has left me to do the work by myself?  Tell her to help me!"
"Martha, Martha," the Lord answered, "you are worried and upset about many things, but few things are needed—or indeed only one.  Mary has chosen what is better, and it will not be taken away from her."  (Luke 10:38-42, NIV)
Just call me "Martha."
I want to be "Mary."  Really, I do.
But despite my best intentions, each Christmas season inevitably finds me distracted with all my preparations, spending less and less time with Jesus.  This year has been no different.
A late Thanksgiving and an extra full social calendar this past month only made matters worse.  I'd snatch a few moments of prayer in the car as I drove from one activity to the other.  I'd quickly skim my devotional book before turning out the light at night.  But I had yet to slow down long enough to really worship the One whose name this season bears.
Until today.
I had planned to skip church.  The Broncos were playing early.  The service would be identical on Christmas Eve, so I wouldn't really "miss" anything, I reasoned.  But as I scrolled down my Facebook newsfeed around 10:15 this morning, still in my pajamas, I came across this post:
"The first day of winter – a good day to worship the Most High God!"
And then a few posts later, this: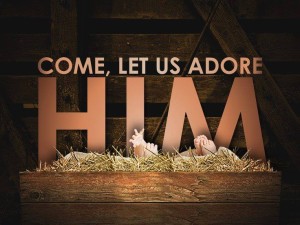 Suddenly I felt drawn, compelled to drop everything and go worship.  I hurriedly dressed for the 11am service  and headed out the door alone.  I didn't care what the rest of the family, or the rest of the world, for that matter, was doing.
I would worship Him.
And I did.  Hand raised.  Eyes closed.  Unaware of those around me.
I sat at the feet of Jesus.  My ears listening to His words.  My heart connecting with His.
It was a good – no, the best – place to be.  It didn't have to be in church.  Worship can happen anywhere, whenever our hearts are centered on Him.  Even in the midst of all of our preparations.
So.  This is for all the "Marthas."
Remember…
It's never too late to have a "Mary" Christmas!
A few notes:
I first heard Bob Horner share the phrase "Mary Christmas" when he taught on this passage at a Crusade staff meeting years ago.  I've never forgotten it.  I just forget to practice it!
Thank you to my Facebook friends Anastasia and Kevin/Darcy for your timely posts!
The above painting is called "Christ in the House of Martha and Mary" by Henryk Siemiradzki.
Share on Facebook