Dear Disappointed Bride,
I know you wanted the sun to shine on your special day. Every bride does. We equate sunshine with joy and happiness. We feel like God is smiling down on us when the sun shines.
Of course you prayed for sun.
But instead you got rain. Or snow. (Or a tornado. Or two, like one recent Wyoming spring bride. Her pictures were epic, btw.)
So you had to go with Plan B. If you even had a Plan B.
I understand.
Friday was our eldest daughter's wedding day. It started out sunny and bright, but by mid-afternoon the rain had arrived, uninvited. During a brief respite, we optimistically seated our guests for the outdoor ceremony, hoping to sneak it in before the next storm front rolled through.
The clouds darkened. Lightening threatened. We prayed.
And the heavens opened.
Literally.
We baptized our guests that evening. They fled for refuge into the barn where the reception–and now the ceremony–was to be held. (Some of them are even still speaking to us.)
Hello, Plan B.
Perhaps, like me, you sometimes find yourself secretly envious of those other "lucky" brides, whose plans to get hitched went off without a hitch. You might wonder why God didn't answer your prayers in the same way. And maybe deep down you feel that He wasn't blessing your union quite as much as He blessed theirs.
I've got some good news for you.
The superstitious believe that rain on a wedding day brings good luck. Some cultures view rain as a sign of fertility and cleansing. The Bible also has much to say about rain. I found this on a website explaining the symbolic meaning of biblical words:*
Rain:  Something refreshing, delightful."
I know it didn't feel delightful at the time. But biblically, rain, not sun, is the imagery most often used to indicate God's blessing, favor and presence.
So let these truths from His Word disperse any clouds of disappointment still lingering after your storm…
1)  You were blessed.
I will make them and the places surrounding my hill a blessing. I will send down showers in season; there will be showers of blessing. (Ezekiel 34:26, NIV)
2)  God was smiling on you.
When the king smiles, there is life; his favor refreshes like a spring rain. (Proverbs 16:16, NLT)
3)  He was there, right in your midst.
So let us know, let us press on to know the Lord. His going forth is as certain as the dawn; and He will come to us like the rain, like the spring rain watering the earth. (Hosea 6:3, NAS)
And one final thought…
4)  Our Plan B is always God's Plan A.
Many are the plans in a person's heart, but it is the LORD's purpose that prevails. (Proverbs 19:21, NIV)
He planned that our daughter's wedding ceremony would be held in a barn.
He planned that His Son would be born in a stable.
His plans are always best.
Beloved bride, you will encounter storms and disappointments in your married life as well. Your wedding day was good practice in how to handle them with faith and grace. You're off to a great start.
I hope this helps you feel better about that darn weather.
I know it helped me.
Love,
A Mother-of-the-Bride
P.S. It rained on my wedding day, too.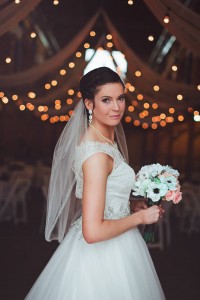 (Here is our elegant Emily posing for a bridal portrait in the barn. The light streaming in from the window above was like a spotlight on them during the ceremony. And the glory of the Lord shone all around.)
*www.biblestudy.org
**Huge thank you to Liz Osban Photography for this photo and for so masterfully capturing the warmth and beauty of their special day.