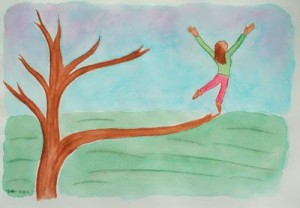 I can feel my heart pounding inside my chest.  My hands are clammy as I type.  I'm not a risk taker.  I don't like conflict.  I'm afraid of being judged.
Yet here I go, out on this limb.  (Deep breath.)
It's a limb called "Tithe."
When I began blogging I determined not to use this space as a soapbox, a platform to vent or push my own agenda.  Ephesians 4:29 is written out on a sticky note beside my computer screen, a filter for my words.  Are they Wholesome?  Edifying?  Timely?  Grace-giving?  I pray this post also passes that test.
I love God's church, the beautiful bride of Christ.  I would never want to do anything to hurt or divide it.  I pray my words build up, not tear down.
But respectful dialogue and a different perspective on a subject can be healthy for the church.  Sometimes we are called to address a potentially controversial topic, to leave the comfort zone, the safe place.  Being out on a limb is scary.  But if God beckons us out there, He will hold us up.
Enough disclaimers.
Our pastor just issued a "90-Day Challenge."  The challenge is to tithe (give 10% of your income) to the church for 90 days.  If at the end of that time you don't feel God has blessed you, the church will gladly refund your money.  The biblical basis for this challenge can be found in the third chapter of the Old Testament book of Malachi.  Here God encourages His people to "bring the whole tithe into the storehouse" and to "test" Him to see if He will not pour out a blessing upon them.
I take God's Word seriously.  And I certainly don't want to miss out on a blessing.  But I will not be participating in the 90-Day Challenge, or taking the "Tithing Test," as it is sometimes called.  Here's why.
I don't have a problem with encouraging people to give.  Greed is not a fruit of the Spirit.  We are called to be generous.  "For from him and through him and for him are all things."  (Romans 11:36a, NIV)
I do have a problem, however, with the way tithing is taught and emphasized in many–if not most–Christian churches.  Tithing has become so widely accepted (and expected) as THE way to trust God with your finances.  It's just what 'good Christians' do.  But I believe it is more of a cultural Christian practice than a biblical mandate.
The "tithe" as we know it today is a far cry from the tithe of the Bible.  Tithing was a part of the Levitical law.  Devout Jews were required to bring a "tenth" of their produce and livestock at various times throughout the year, to help feed the temple priests, its officiants, and the poor.  The tithe was never money (even though currency was in use at that time).  It wasn't even an actual 10%, but averaged more like 23% annually.  (For more on the historical tithe, check out the link below.)
The fact is, none of that matters or applies anymore.  Jesus' death on the cross freed us from the demands of the law.  The New Covenant, one characterized by grace and freedom in Christ, is now in effect.  We are no longer obligated to keep the Old Covenant, which includes the tithe.
Christians are most definitely exhorted to give:  generously, cheerfully, voluntarily.*  But do a search of the word "tithe" in the New Testament.  Most notable is its complete absence in Paul's instructions to the Church.  Believers will be hard pressed to find a command in the New Testament to tithe their income to the local church.  It's just not there.**
I'm not saying it's wrong if you prayerfully decide to give 10% to your local church.  Many of my godly friends tithe and I love and respect them.  For some, tithing can be a helpful financial discipline.  But I also don't think God will punish you or withhold a blessing from you if you don't.
If you are struggling financially, perhaps you need to hear that it's okay to just humbly receive right now.  Maybe the church should be giving to you.  I love the fact that our church recently started a Facebook page to help meet practical needs within the church family.  It feels very much like a modern version of the early church.
But as for me and my house, we have chosen not to tithe.  This doesn't mean we don't support our local church and other Christian organizations.  We have at times given a percentage of a certain source of income (like our tax refund or the sale of a house) to God's work.  Sometimes it has been 10%.  Sometimes it has been 100%.  I guess you could say we try to practice "Spirit-led giving."
We don't have it all down.  We still miss opportunities to bless.  But the Lord is patiently teaching and gently molding us into givers after His own heart.
A wrought iron sign hangs in a prominent place in our home.  It reads:
"Blessed by the Grace of God"
I love it because it's a reminder to me that we have most certainly been blessed.  Abundantly.  So much more than we deserve.  And not because WE have done anything.  Simply because of God's grace, given freely to us in Christ.
So the real test for me is not in tithing, but in trusting that God loves me and desires to bless me, independent of my performance.  Because God's grace is another limb I am often nervous to inch out on.  It feels risky.  Is it really strong enough?  If I rely on it completely, and not on my own efforts, will it hold me up?
His grace is exhilarating, and it is enough.  I'm learning to rest in it as I rest my full weight on it.  His grace motivates and challenges me to give.  Freely, generously, as I have been given.
"For of His fullness we have all received, and grace upon grace.  For the Law was given through Moses; grace and truth were realized through Jesus Christ." (John 1:16-17, NAS)
 "…see that you also excel in this grace of giving." (2 Corinthians 8:7b, NIV)
* (See 2 Corinthians 8 and 9.)
** (Matthew 23:23/Luke 11:42 is about the closest you'll get.  Keep in mind that Jesus was addressing the Pharisees and referring to the temple tithe.)
~For inspiration on giving generously, go to:  http://www.generousgiving.org/
~For an in-depth study on the topic of tithing, try:  http://www.tithing-russkelly.com/ (Scroll down a little to get to the essay.)