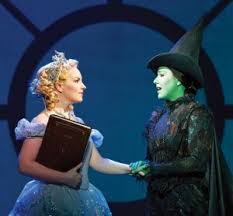 Their facial expressions were difficult to distinguish from our perch in the upper balcony during last Saturday's matinee performance of "Wicked."  But even from that distance there was no mistaking Elphaba's green face and Glinda's golden curls as they began their farewell duet on the stage below.  In perfect harmony their voices intertwined, lifted and filled the Gershwin Theatre on Broadway.
"For Good" is a song about friendship and the difference one life can make in another.  I couldn't help but think of some of the people I had been blessed to know in my lifetime who had helped to change ME for the better.  My heart pulsed with gratitude and my eyes pooled with tears as I pictured their familiar, loved faces.
Three days later, as our flight from La Guardia touched down at DIA and taxied to the gate, I took my iPhone off of airplane mode to check for messages.  Waiting for me was a text from my dear friend Bridget, letting me know that a mutual friend of ours had passed away that day.  His name was Doug.
Doug was one of those people.
He had the build of a teddy bear and the heart of a servant.  His laugh was infectious.  He possessed the rare kind of wisdom obtained only through enduring trials and hardship.  He was Godly.
I was a young Arizona college girl majoring more in Sorority Life than in Spiritual Life when I met him.  But he believed in me, gently but persistently encouraging me to attend campus ministry events and conferences.  I showed up at one conference to discover my registration had been anonymously paid in full.  I always suspected it was him.
Doug had incredible faith.  Following graduation we both felt called into full-time ministry.  Inspired by the biblical story of Nehemiah, who rebuilt the wall surrounding Jerusalem in 52 days, Doug believed God would raise his financial support in just 52 days.  He did.  (Mine took seven months.  But Doug cheered me on and helped me persevere.)
We spent a summer ministering in Turkey together.  I would never have had the courage to go overseas without his strong leadership and secure companionship.  He carried my unwieldy hard-sided suitcase all over that country and stood quietly by while I suffered the unpleasant effects of food poisoning.  He later returned to the Middle East, where he faithfully served the Lord alongside his family for many years.
Heaven will be a more populated place because of him.
I have no doubt he is there now.  I can just imagine him waiting patiently at the pearly gates to welcome his countless friends and spiritual children as they arrive, one by one.  He'll greet them with a twinkle in his eye and wrap them in a warm bear hug.  Then he'll grab their suitcase and take the lead, showing them around his Father's kingdom, just like he did on earth.
For Good
I've heard it said,
That people come into our lives
For a reason
Bringing something we must learn.
And we are led to those
Who help us most to grow if we let them.
And we help them in return.
Well, I don't know if I believe that's true
But I know I'm who I am today
Because I knew you.
Like a comet pulled from orbit
As it passes a sun,
Like a stream that meets a boulder
Halfway through the wood.
Who can say if I've been changed for the better
But because I knew you.
I have been changed for good.
It well may be
That we will never meet again
In this lifetime.
So, let me say before we part:
So much of me
Is made of what I learned from you.
You'll be with me
Like a handprint on my heart.
And now whatever way our stories end
I know you'll have rewritten mine
By being my friend.
Thank you, Doug.  You and God changed so many lives for good.  I am eternally grateful to be one of them.
*Excerpt from "For Good" by Stephen Schwartz