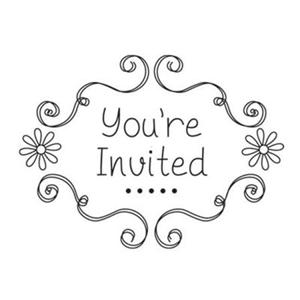 "I want God to talk to me," Laurel declared one afternoon not long ago, after reading one of my blog posts.
A few "light" conversations followed.  (Exactly how does one embark on a quest to hear the voice of God?)  I encouraged her to read the Bible, since it contains His words.  I also explained that sometimes the Lord might impress something on our hearts that He wants us to know or to do.  We prayed a few times during the past month specifically that God would speak to her.
So when she came out of church this past Sunday with a satisfied little smile on her face, I inquired about it.
"God talked to me," she stated contentedly.
"Well!  What did He say?"  Now it was my turn to be curious.
"He told me to invite Jamie to church tonight," was her simple and straightforward reply.
Ok, then.
She didn't seem at all deterred by the fact that her friend Jamie had turned down recent invitations to church, preferring instead to read or go shopping.  She wasn't a bit discouraged by the fact that Jamie wasn't even home that Sunday afternoon, but was out horseback riding, taking advantage of the extra hour of daylight.  Laurel called her cell phone and invited her to church.
And Jamie accepted the invitation.
Jamie accepted another invitation that night too.  Hand in hand with a wide-eyed Laurel, she waited in line to bravely profess her faith in Jesus through baptism.  I'll never forget the look on Laurel's face as she waited on the opposite side of the horse trough (read:  Wyoming baptismal tank) to hug her shivering, but happy, friend.
I also won't forget the lessons I learned from my daughter that day:
~God delights to respond to a heart that is seeking Him.
~When He speaks, listen and obey.
~He invites us to participate in His plan.
~Be sure to R.S.V.P.
~Because any event HE is hosting is one we don't want to miss!