Beau marked his "Half Birthday" last week.  And, as if a switch had been flipped in his little doggy brain, he immediately began "marking" his territory.
INSIDE the house.
I was reminded of all the reasons we wanted a female dog.
We in turn celebrated the milestone with a trip to the vet for a few "alterations."  (Sorry, Beau.)  We're hoping this will "fix" his little leg-lifting problem.
But I have to share Laurel's response when we discovered her dog's newfound compulsion to mark his territory.
"Beau!" she scolded him, "It's already yours!"
Then she turned to me.  "This could be an illustration."
"Of what?" I questioned.
She went on to describe how as Christians we often work so hard, trying to gain something that has already been given to us.
She's right, you know.
When we were adopted into the family of God, what was His became ours.
All praise to God, the Father of our Lord Jesus Christ, who has blessed us with every spiritual blessing in the heavenly realms because we are united with Christ. (Ephesians 1:3, NLT)
There is no longer any reason to feel insecure.  He has given us every spiritual blessing in Christ.  We have a place in His heart forever, and a full inheritance as sons.  We are marked with His seal of approval.
So, RELAX.
Stop strutting your stuff.  Cease striving to prove your worth.  Quit worrying about "making a mark" for God.  (That last one was for me.)
Just live in the joy and freedom of your Father's house.
It's already yours.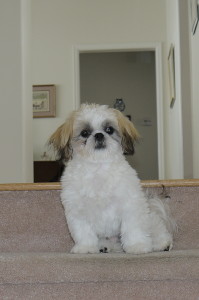 (Now let's pray Beau also figures this out.  And soon.)